At dusk on Tuesday 25th I arrived in a rented Pantech 3-tonne truck with a consignment of flat-packed materials for the Temple and the Bug. We unloaded on Wednesday and got off to a promising start, organising materials and setting up the build sites. However, it proved to be a false start when our temporary shade structure succumbed to high winds. So, construction finally got underway on Thursday, with the assembly of the first platform and the marking out of the overall geometry at 1:1.

27 June: The hardwood posts for the first platform were dug into the ground. The team were then reminded that our permit from QPWS includes a condition that no holes be dug in the paddock, in order to protect the already fragile pasture from significant damage and degradation. The platform was removed and the holes filled back in - a different strategy would be needed to stabilise the structure.

I spent the day offsite in Inglewood, re-establishing our presence with local business owners and wrangling up various necessities - showers for the crew at a local motel, advance notice to the pub that there would be twelve hungry workers coming in for dinner on Saturday evening, ice-creams from the supermarket. In a regional community like Inglewood, suffering the effects of drought and depression, it is important that Modifyre be seen to bring with it some benefit to the place. This doesn't just mean spending a few dollars around town - although that is important too - but that we make the effort to foster positive relationships with local people across the board.
Most important to the build was a visit to Ken Reilly, the "Ironbark Executioner", at his hardwood mill a few kilometres outside town to the southeast. In exchange for a carton of Great Northern beer, Ken let us loose in the paddock at the back of his property where he disposes of flitches - the unusable bark offcuts left over in the sawing process. We arranged for a local contractor, Red Rock Transport, to deliver two loads of flitches from Ken's place to Yelarbon State Forest the following day, to be used primarily as cladding material for both the Temple and the Bug (though they proved useful for a wide variety of other things - including a mantlepiece and decorative fascia in the increasingly sophisticated crew bar).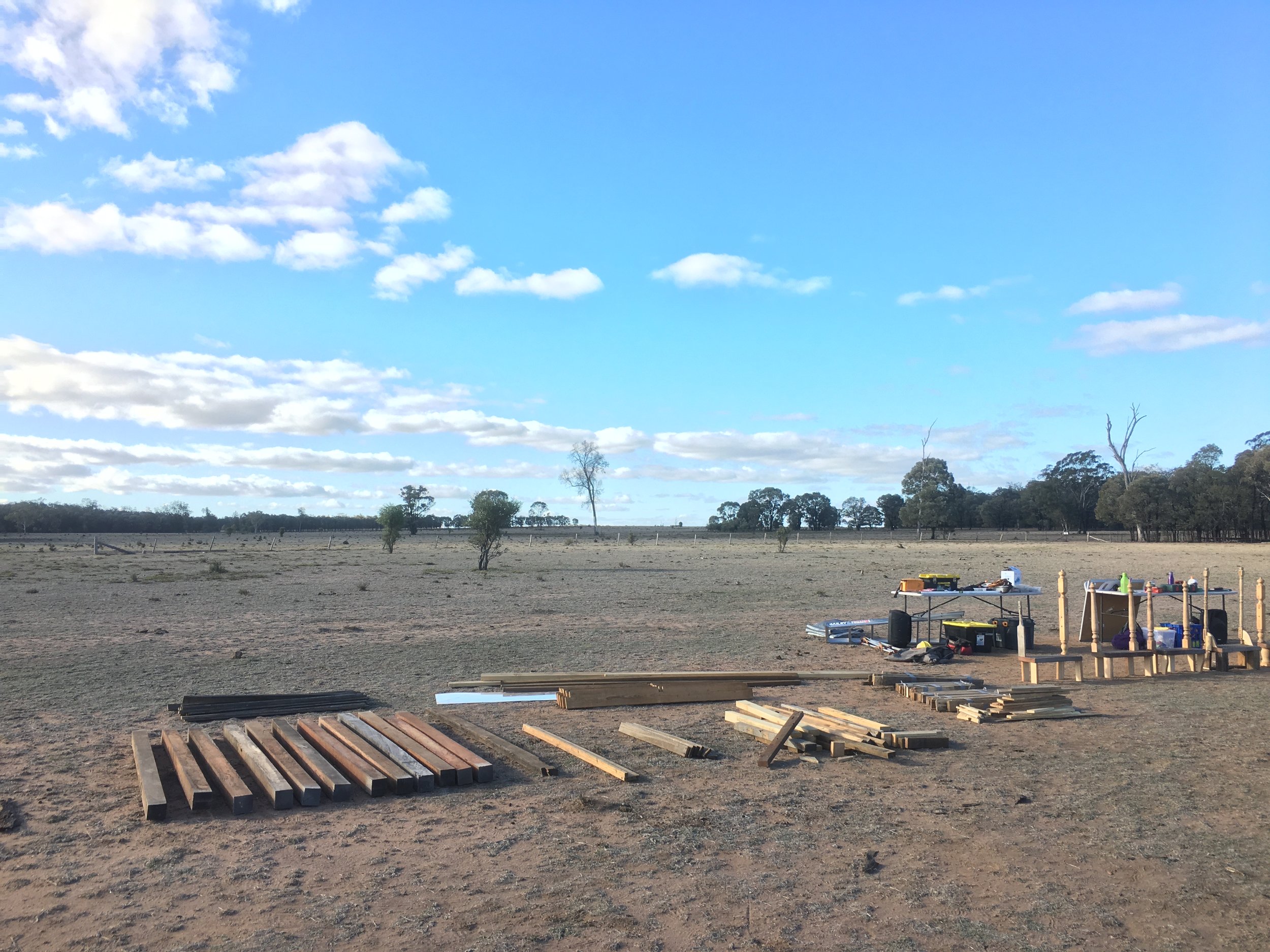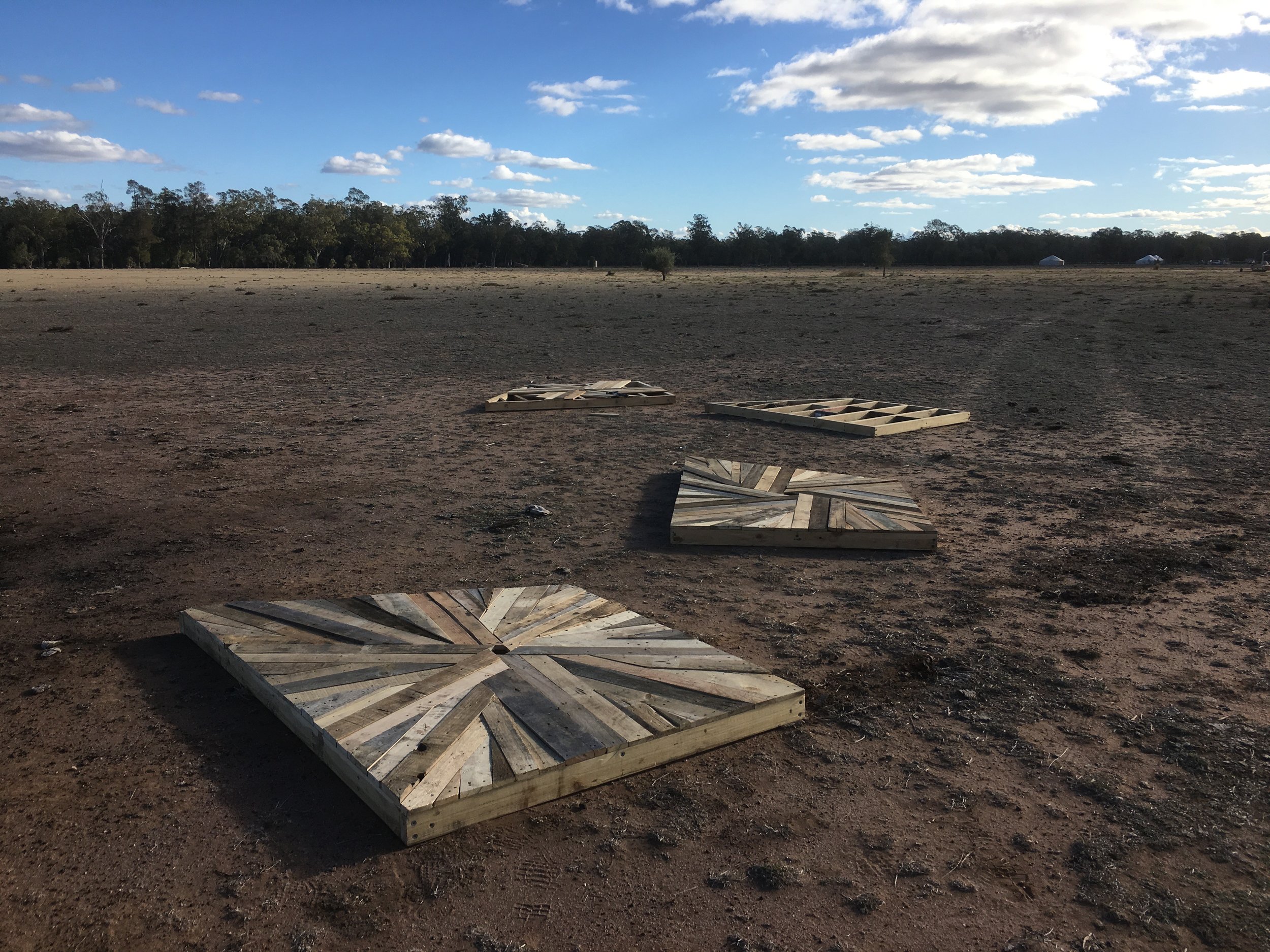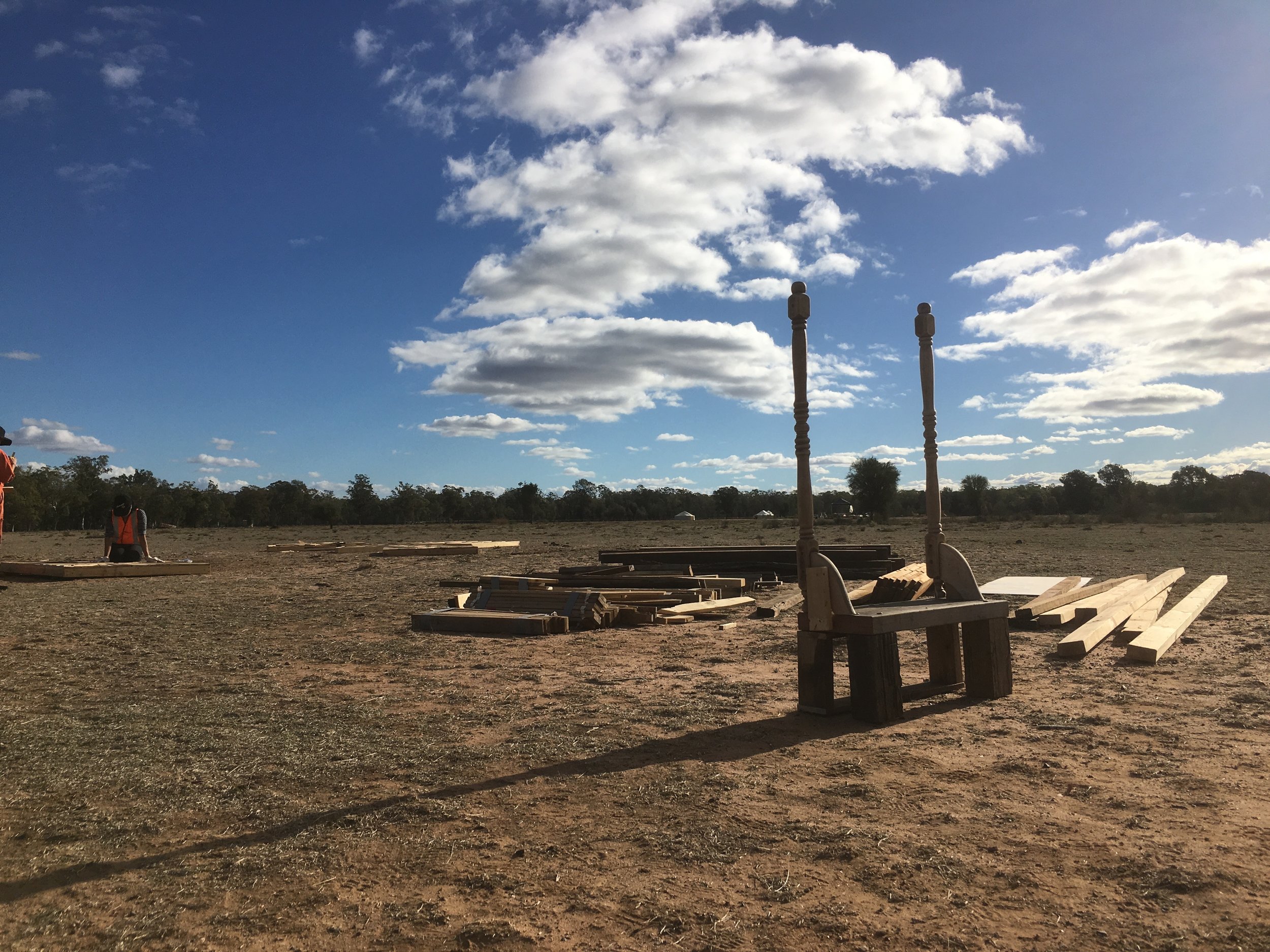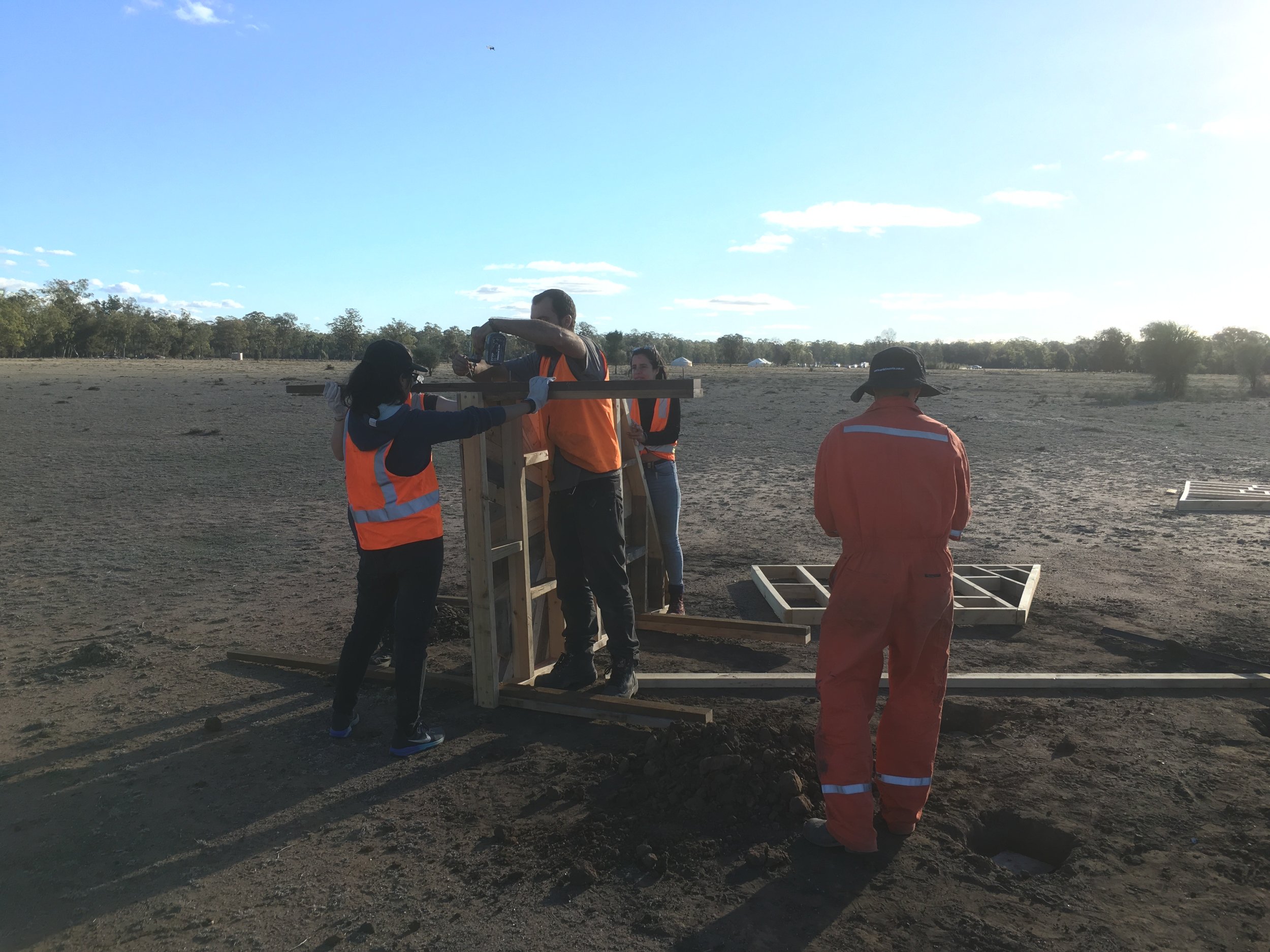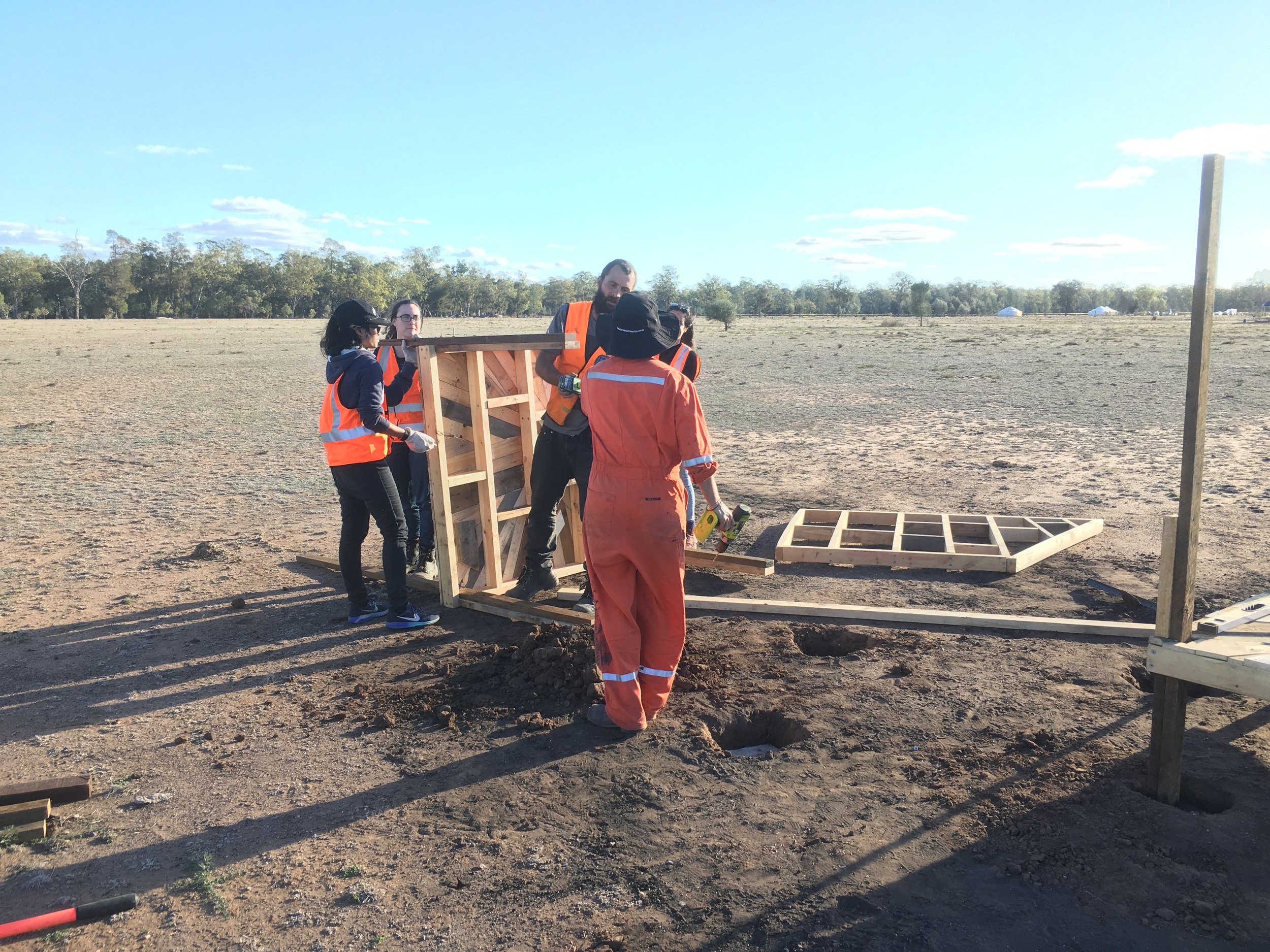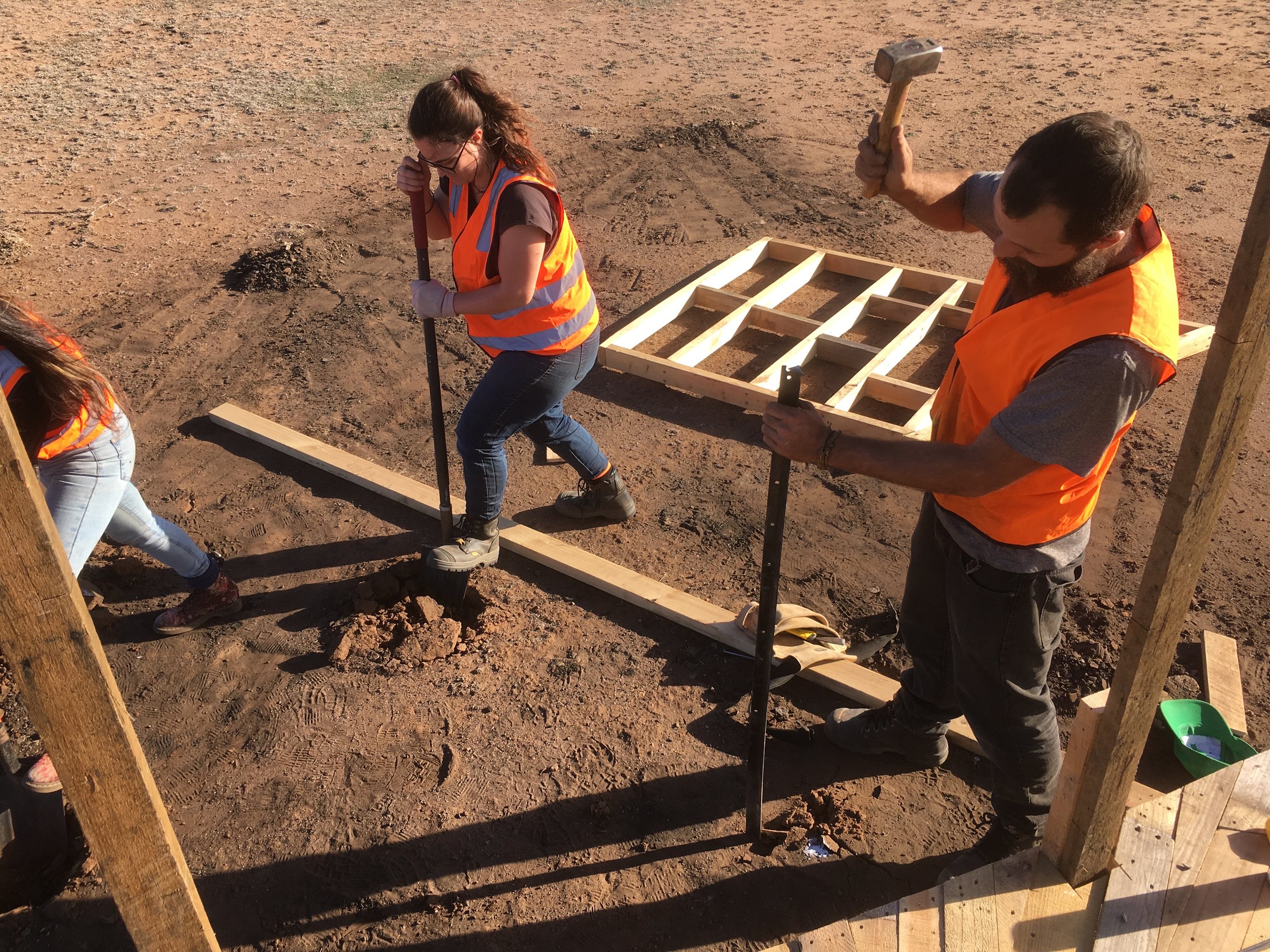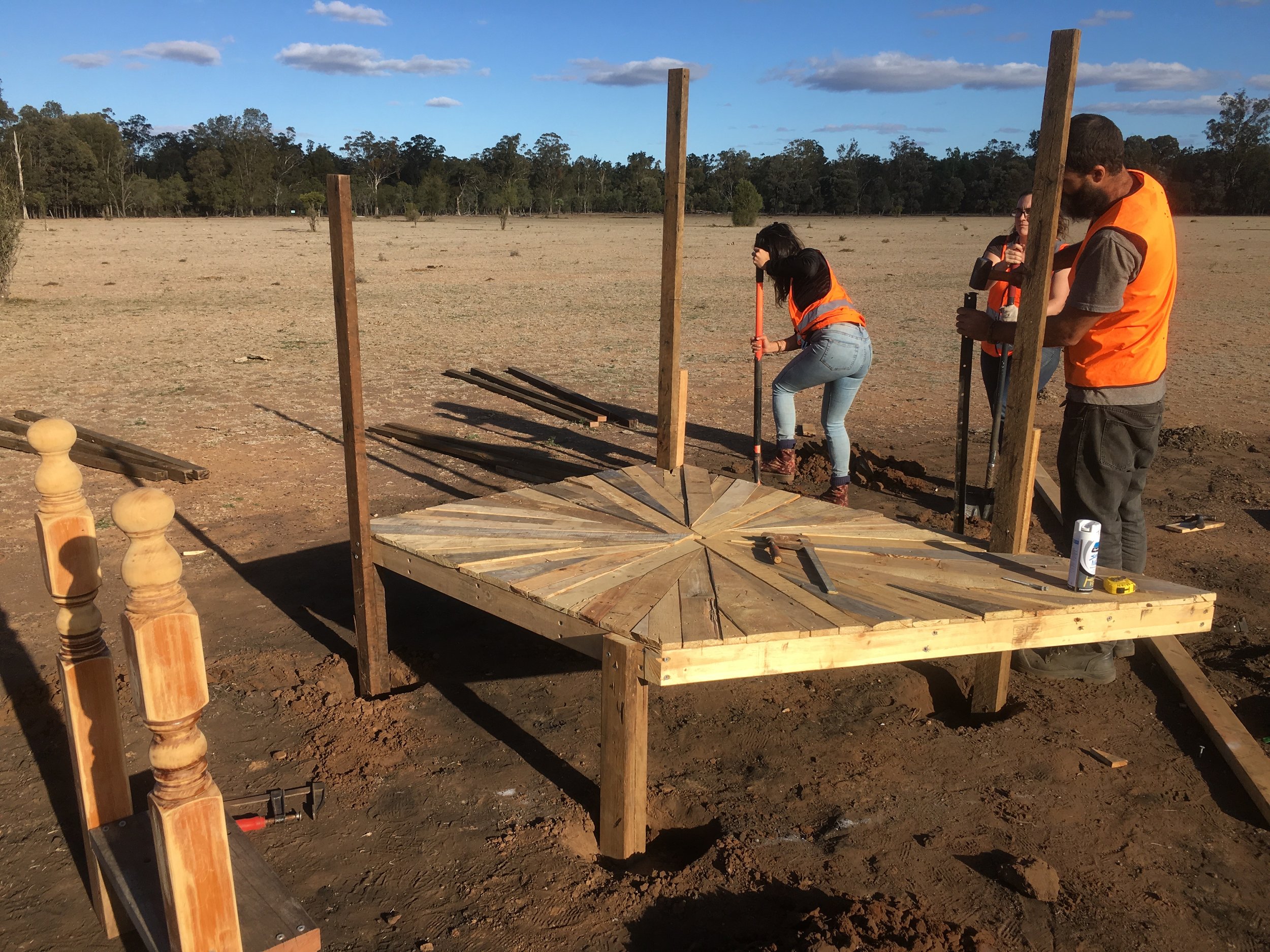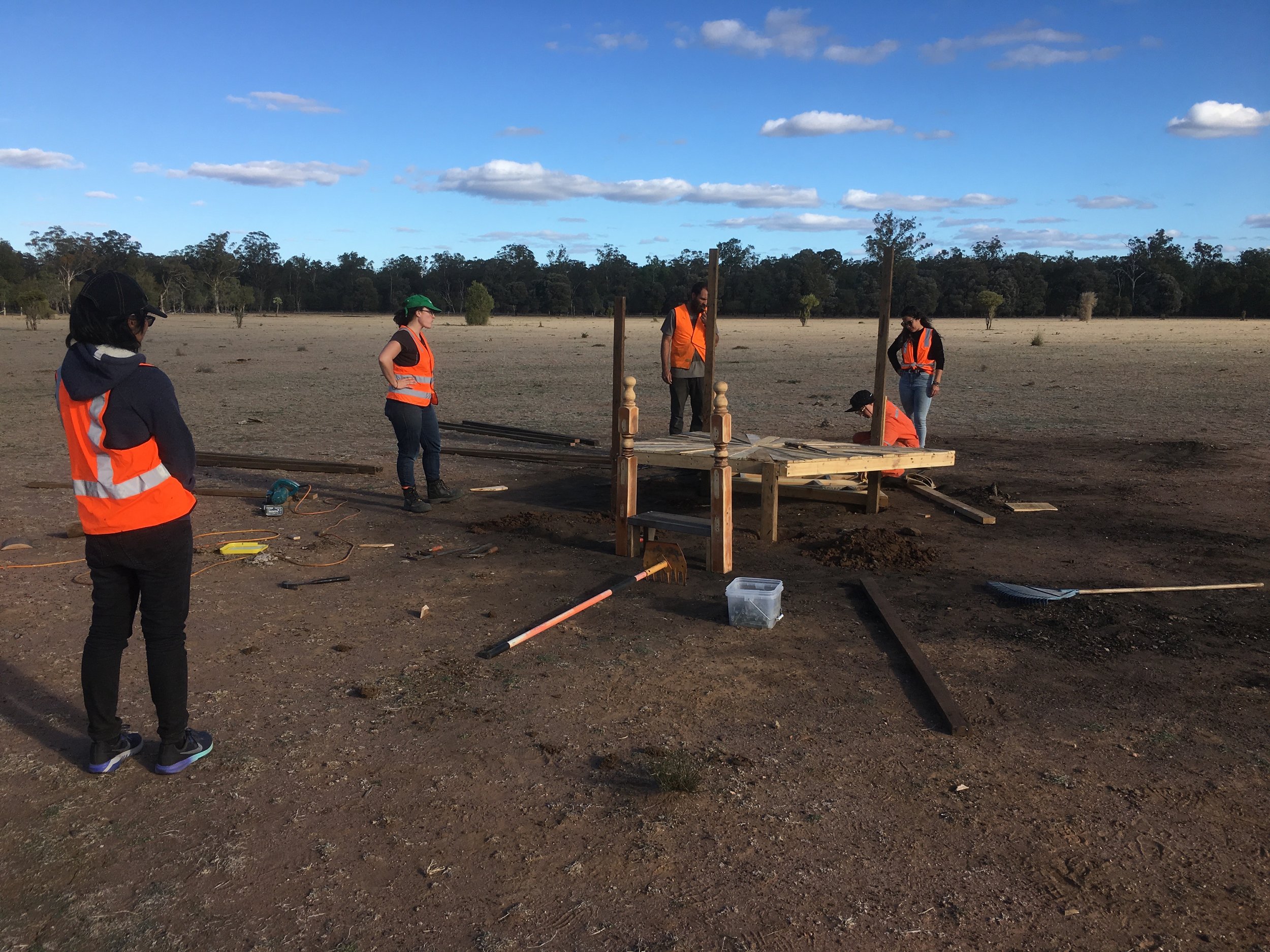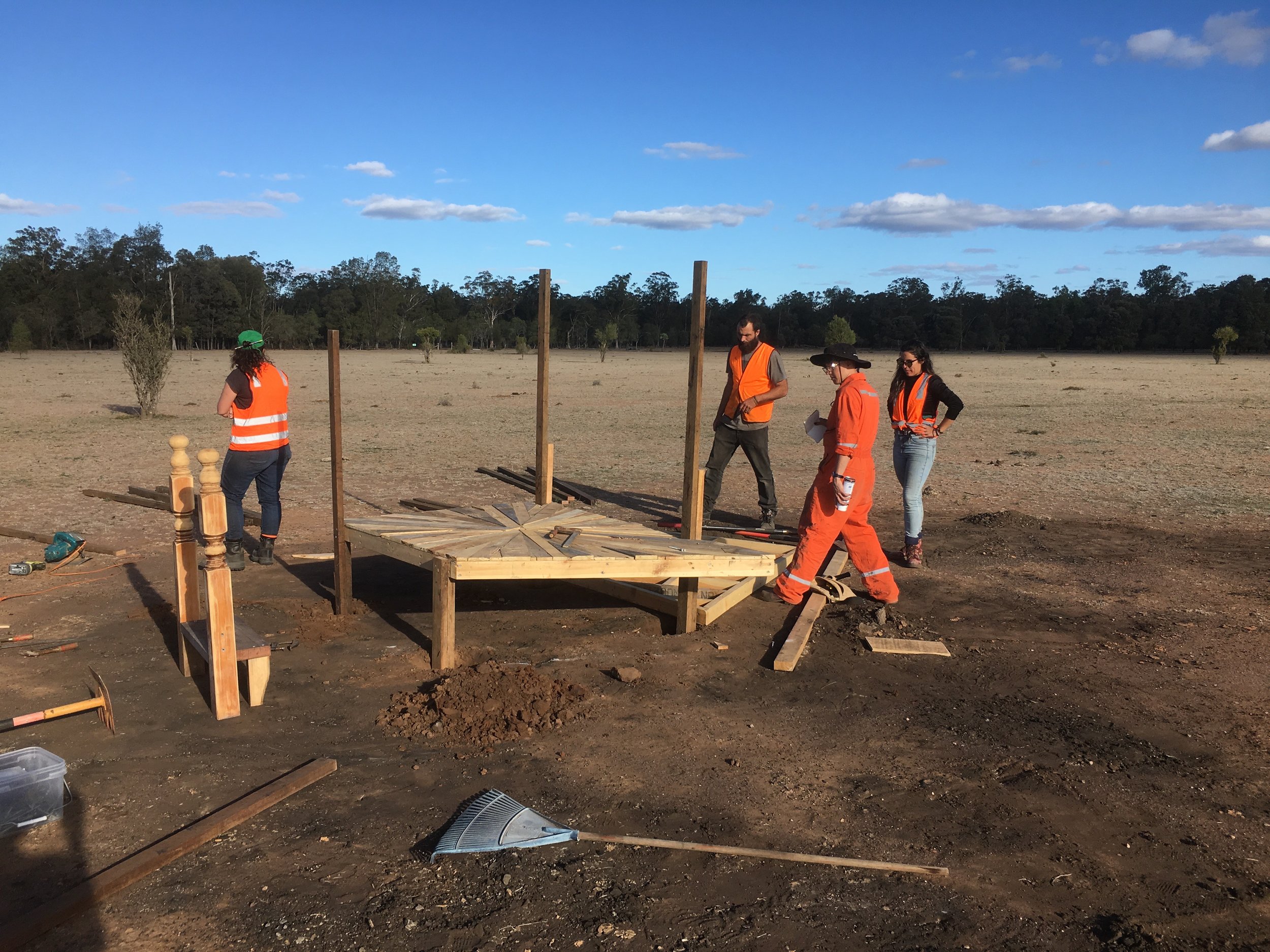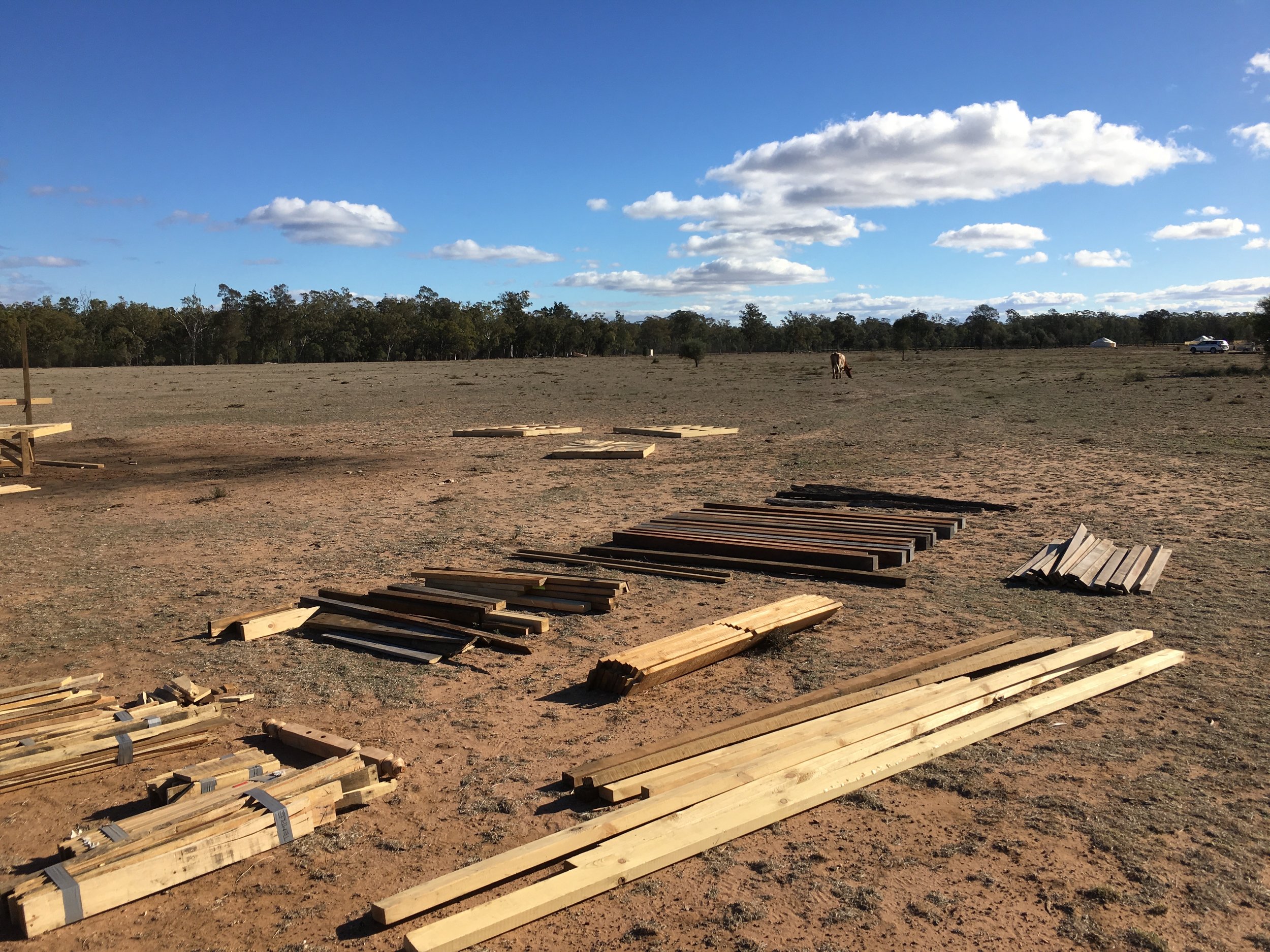 28 June: The following morning Red Rock duly delivered the first load of flitches. There was some dispute amongst the crew as to whether the tip truck was sufficiently loaded to justify the $100/hr commercial rate that we were paying. I explained somewhat matter-of-factly that Modifyre is run by a non-profit entity (BURN Arts, Inc) with extremely limited resources, but that we were striving to make a positive contribution to Inglewood. My frustration wasn't well received. However, after the second delivery arrived, Tom 'Bundy' Hamlyn, the DIC Head, told me that Red had decided to waive the fee altogether. It isn't clear what brought about the change of heart, though I suspect perhaps there was another case of beer involved…